Aging building infrastructure is crumbling nationwide
In the last decade, there has been a rapid decline in the structural integrity of aging exteriors and vertical facades. Recently, in a few major metropolitan cities, there have even been fatalities from falling facade components becoming dislodged and falling to the ground as lethal airborne projectiles. Keeping the general public safe from walking on city streets from facade failure has become a critical building code safety initiative, especially in areas of the country where historic structures were built nearly a century ago. This is often accelerated by hard environmental conditions, especially in regions that experience all four seasons.
Facade inspection has become a growing area of concern and expense for property management companies, facilities management companies, building owners, and contractors. Historically in order for structural engineers to effectively inspect vertical facades efficiently, they would erect very complex and time-consuming scaffolding systems, swing stages, and bucket trucks just to look at the side of a building. The costs could often run as high as $100K. Compounding the problem of cost and safety, often the building would need to shut down during the scaffolding building process. In most cases, the scaffolding would be up for months at a time.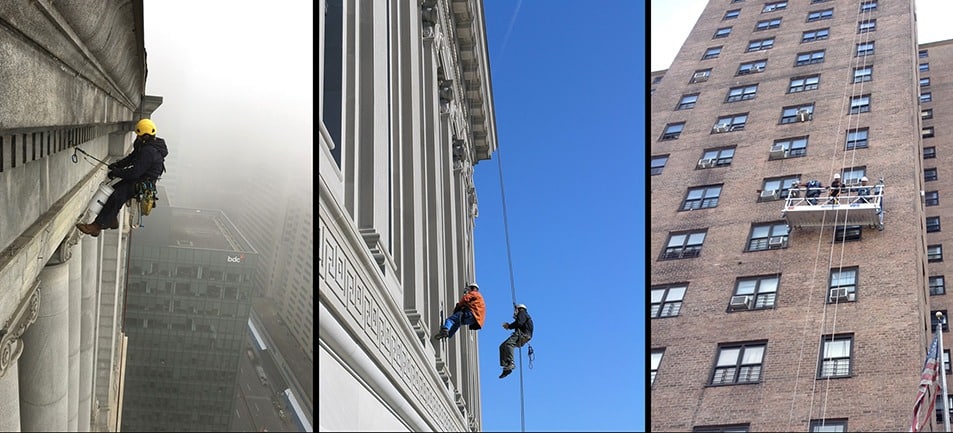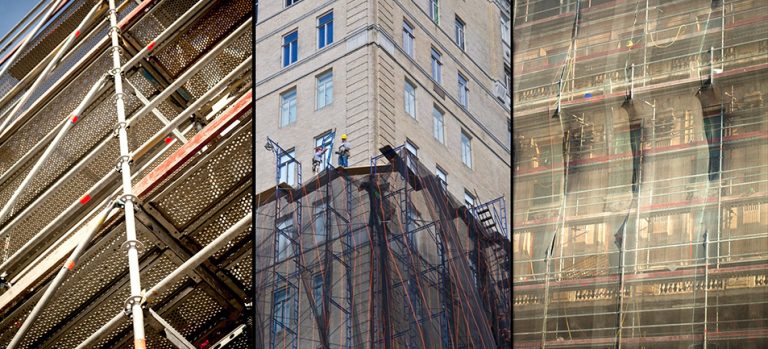 Traditional facade inspection methods
Until recently, scaffolding systems were the only way to physically inspect, identify, and document existing conditions for analysis and ultimately remediation. In many cases, US building owners of structures that are five or more stories tall are required to have a licensed architect or engineer regularly inspect their facades for unsafe conditions, which ultimately meant being onsite after scaffolding was erected.

The emergence of drones for facade inspection
On August 29th, 2016, the Federal Aviation Administration (FAA) announced the implementation of the first operational rules for routine non-hobbyist use of small, unmanned aircraft systems (UAS or "drones"). These historic new rules transformed aviation and society in very profound ways. 
With rapid technology advancement in drone aircraft capabilities, combined with a new generation of task-based drone software technology (such as DroneDeploy), the facilities management industry is primed to take on this work-force multiplier by reducing inspection time of vertical structures exponentially. By using drones to collect data, facilities and property management firms can now safely and efficiently analyze and recommend remediation as quickly as within 24 hours of inspection.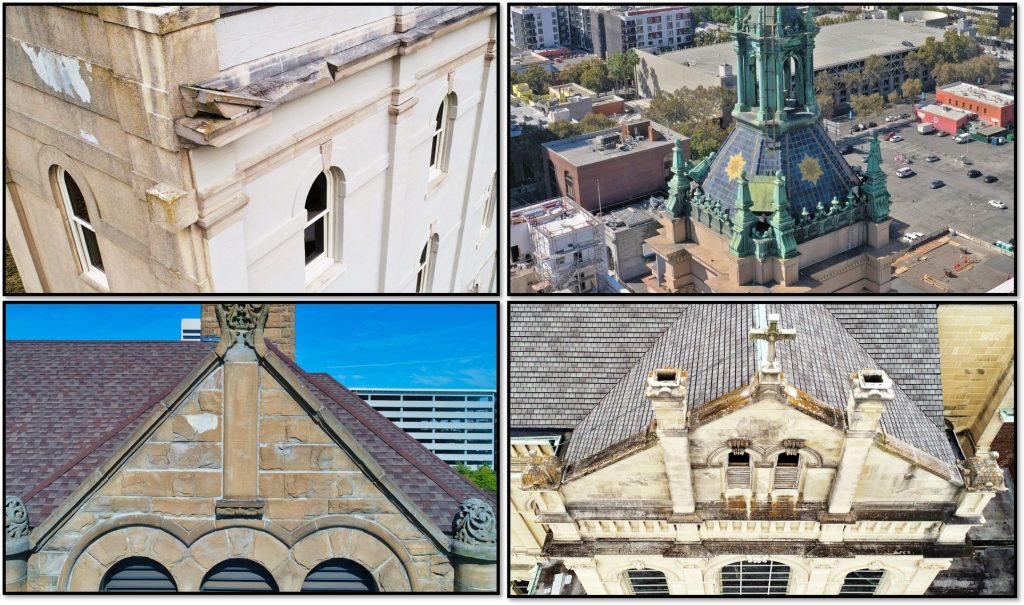 New drone software is enabling vertical flight facade inspection
At first, most automated drone software tools focused on horizontal mapping for popular applications such as roof inspections, land mapping, 3D elevation modeling, and dozens of topographical data collection purposes. Now, with the latest technology advances, it's possible for drones to execute vertical flights, making effective facade inspection possible, capturing areas that top-down photography simply cannot see.
You can even fly multiple facades at once and capture every side of your building in one flight.
This enables high-resolution images of the structural sides, providing the necessary capture for game-changing 3D reconstruction. Georeferenced imaging, 3D, or even thermographic data can be collected and shared via web-based inspection and analytics platforms.
There are many effective uses for drone inspections that go beyond structural damage. For example, drone data can be used to capture information for historical preservation, create 3D point clouds, document building code compliance, compare as-built conditions and much more.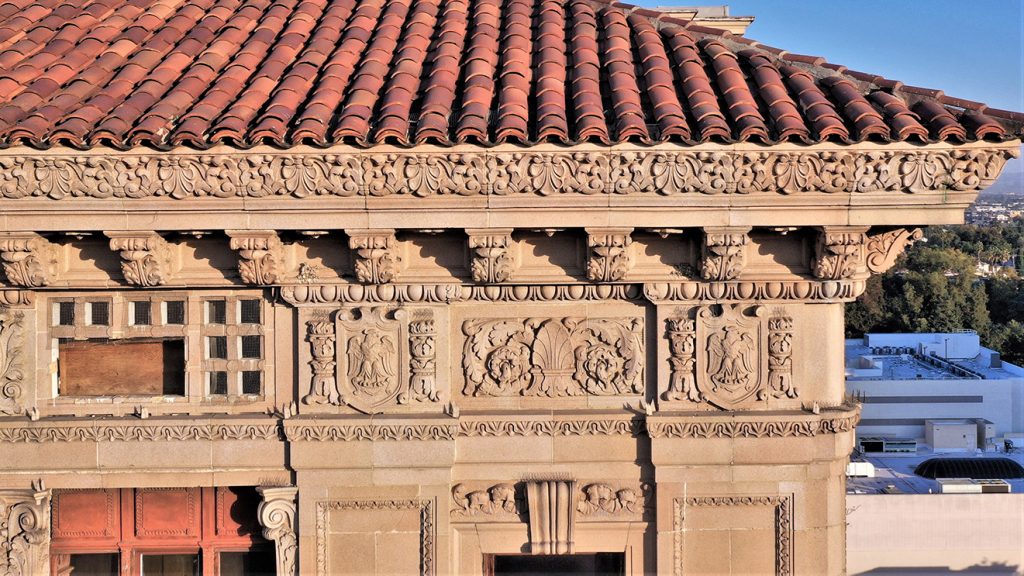 How drone inspection data can reduce or eliminate the expenses and risks of travel
For facilities or property management, you may need to track multiple properties across a number of regions, which is why utilizing a web-based portal such as ConnexiCore Cloud™ would allow all property inspections to be presented at one user interface and provide visibility to your locations in Chicago, New York, or wherever. When we look at drone building facade inspections, what is provided is all the aerial data within one online portal. Most importantly, the image data is geo-referenced which shows specific GPS locations of anomalies. Tags and folder structure can also be created to quickly sort and get to areas of interest quickly and efficiently.
Additionally, by provisioning user class-of-service you can segment data viewing permission by region, so a regional manager might only see Texas, Florida, California, or whatever he or she is responsible for. Especially with Covid-related travel restrictions, drones can eliminate the need for engineers to physically travel to an inspection site, avoiding close proximity interaction with people on a scaffolding system.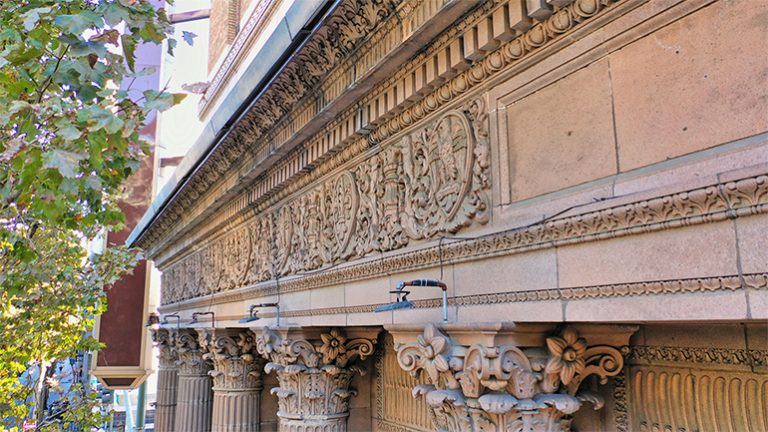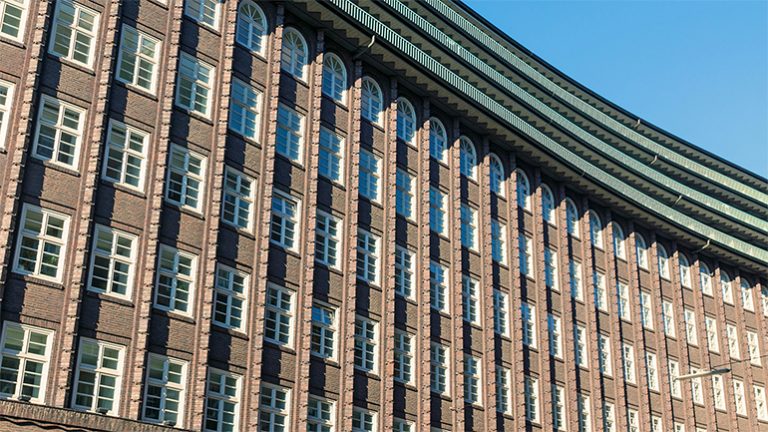 Ensuring safety for your drone facade inspections
When considering drone safety, it is important to have flight confidence as the drone is in the air, particularly if the drone is 5 to 15 feet away from the building structure.
Here is what the vertical view looks like from a drone operations perspective.
As the drone flies its flight path, artificial intelligence software auto-tags anomalies across the entire facade surface providing a faster way of conducting your building inspection. At the same time, the inspection images can be uploaded, sorted, and classified in the software, making it possible to create "point-and-click" PDF reports improving decision support at a fraction of the time.
This lets you see where the drone is against the side of the building, without having to spin around and execute risky aerial maneuvers. In addition to keeping workers, pedestrians, and buildings safer, it also enables much more detail compared to a regular satellite map.
Drone inspection reporting
When you use a drone for facade inspections, you can inspect with confidence, get the exact images you need for vertical inspection, then upload directly via mobile device. This means you can start processing immediately from the field.
It's possible to generate printable and shareable PDF inspection reports, including the type of issue, status, and the summary associated with the issue in a specific issue report or an entire inspection report. The inspection report includes the map locations of all of the issues so that workers can easily find where each issue is, as well as close-up imagery and all of the issue details they need to address it. This allows inspectors to easily share results with all stakeholders.
It's important to inspect the vertical surfaces of any building to identify loose, missing, or damaged building facade elements that could potentially endanger the people around the building on sidewalks, streets, or neighboring areas.
Recent technology advances have made drone facade inspections faster, less expensive, and more effective than prior methods. This enables regular inspections, with excellent guidance on where to focus remediation.