Small unmanned aircraft vehicles (sUAV) better known as "Drones" can be used for a significant number of purposeful applications, providing benefits such as increased flexibility for data capture on demand, decreased operational and support costs, and reduced safety risks.
UAV Growth 
Drones primary purpose can vary significantly, from remote sensing to transportation of cargo, as can the motivation behind their use, which may be driven by the need to improve safety, increase services and efficiency, supplement existing capabilities, or generate profit. This increased usage continues to grow as technological capabilities expand and the price point to acquire the technology decreases. Manufacturers have put a focused effort into making operations more intuitive, while increasing the features and level of support available to the community.
(UAV) is an industry term that has been recently adopted by the FAA for use in establishing regulations and policies for "small unmanned aerial vehicle operations. There are dozens if not hundreds of industries, fields, and technologies connected to (UAV's) popularity. While the Drone industry has made significant strides in technology, adoption, and application, substantial opportunity for growth still exists in these areas.
Communications and networking enhancements have also been impending, including the use of Wi-Fi and Bluetooth communication, and the capability of drones to "swarm" providing a mesh network of sensors working collectively. All these advancements and improvements translate to improved access for users, increased manufacturer and developer opportunities, and increased possibilities for entrepreneurship and innovation.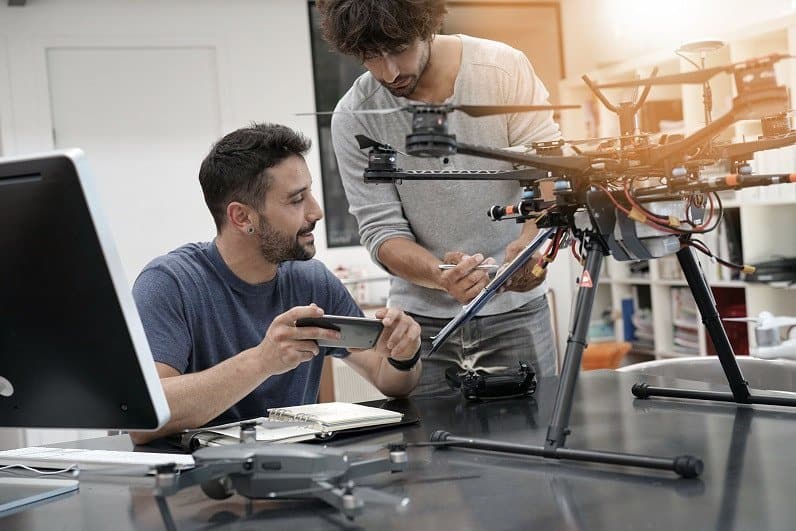 Industry Trends
Drone Service Providers are seeing increased demand in building design and construction, telecommunications, agriculture, and the insurance industries where drones have been used to enhance coverage, improve work-flow, and create actionable tasks through artificial intelligence. The need for training and education of remote pilots, designers, and maintenance personnel will continue to grow and become in high demand as this industry matures.
With the enactment of FAA Part 107, and subsequent evolution of the (UAV) operational framework, training, and education entities will need to closely examine the needs of their clients to provide the necessary regulatory-compliance services. 
UAV Consulting
Another service that has great potential is (UAV) consulting. With many potential users unaware or unknowledgeable about al that is necessary to operate small unmanned aircraft vehicles, consultants can assist in addressing the relevant knowledge gaps and act as the bridge between manufacturer and user, matching the two together to optimize the relationship between parties.
Challenges ahead
Despite the growing opportunities in the drone industry, challenges still exist that may hamper or prevent the level of growth forecasted by industry experts. Some of the most significant challenges to the economic development of this field include:
Ensuring wide-scale compliance with regulations
Maintaining an equivalent level of safety (ELOS) in operation of drones
Anticipating and incorporating technological advancements
Cooperation in a competitive landscape (UAV stakeholders working toward sustainability of the industry)
Uneven competition (small firms against large firms with vast resources)
Uninformed public, including organizations and businesses unaware of or intentionally disregarding federal regulations and guidance.
The need for specialized support (training, development, analysis, and insurance)
Preparing for the future and success of the (UAV) drone industry is going to rely on accurate information going out and coming from all market players.